Sagittarius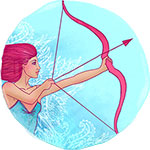 Nov 22 - Dec 21
---
Today's Horoscope
This week
This month
---
Sagittarius Weekly horoscope for May 23 to May 29, 2022
The Sun may have taken the solar spotlight off your work situation and job matters when he left your work sector over the weekend but with Mercury retrograding back in on Monday and Venus returning over the weekend, things are still evolving. However, there is a lack of urgency and that is also the case for the Sun's first week in your relationship sector, with a chance to observe now that the solar spotlight is on your relationships. By the time Mercury leaves he has already been here over three weeks, leaving you the means to keep the communication lines open and especially when it comes to the past. However, it will be home and family matters that will be grabbing your attention on Monday and Tuesday as Mars works to make his final days in your home and family sector count. It is on Wednesday that Mars will join a growing number of planets in a fun, playful, romantic and creatively charged part of your chart.
Love & Romance
While there are new developments on the romantic and relationship fronts this week, in both cases this is adding new energy to what has been an ongoing journey. It was over the weekend that the Sun returned to your relationship sector, something that will always put the solar spotlight on your relationships at this time of year. While Mercury will retrograde back out on Monday, giving you a chance to look to the future rather than the past, not before the planet of communication has given you a chance to give your heart and your relationships a voice. It is two days later that the Moon and Mars will both return to your romantic sector and with perfect timing. Romantically charged lunar vibes will help to amplify Mars' romantic passions and fighting spirit while bringing a chance to make the most of Venus' final days here. This will ensure you are emotionally engaged as the planets of love, luck and passion come together here for the first time in over a decade.
Business & Career
The Sun's departure from your work sector over the weekend may have taken the solar spotlight off your work situation and job matters but even without Mercury retrograding back in on Monday, this was never going to put a full stop on anything. This might be the point in most years when work and job matters level off and it then becomes more about the journey, but you are still several months away from that point. Instead, with Venus finally returning over the weekend but Mars approaching his first visit in two years, as Mercury retrogrades back in this is a valuable chance to regroup. Mercury will turn direct again next Friday, making this a short chance to pause and even back up. Meanwhile, the Moon's return on Friday will ensure you are emotionally and intuitively engaged when Venus returns less than 12 hours later and as Mercury is slowing down as he enters his last weekend in retrograde motion.
Money
While the Moon left your income sector over the weekend, this allows you to begin the week with an advantage on both sides of the financial fence. While the Moon returns every four weeks and will always sharpen your nose for money and act as a trigger, this was both the first visit since Pluto's retrograde turn here and since the dwarf planet Ceres returned to your financial sector a week earlier. While the Moon and Ceres clashed, putting a balance between money coming in and money going out to the test, for the first time this year while there is now equal weight on both fronts. By the time you move into the new week the Moon has formed a friendly aspect to Ceres, so is already boosting your financial confidence and turning any financial tension this may have created into a better understanding of your financial needs and priorities. In the meantime, Mercury's return to your work sector on Monday will put him back at a friendly to Pluto in your income sector. This time, with both in retrograde motion the focus is on the past, second chances and untapped income and job potential.
Health
While the Sun left your health sector over the weekend, taking the solar spotlight off your health needs, situation and matters, as it does at this time every year, there is still a lot of focus here. It is on Monday that Mercury will retrograde back in, with a chance to regroup after the Sun left and even back up a little, reviewing the insight gained over the past month. It is the Moon's return on Friday that will not only give you a better read on what your body is telling you but will be here when Venus returns less than 24 hours later to fuel a new desire to look and feel good.
---
You may also like